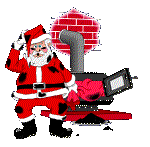 Contributed By: Laurie Edgeworth
Laurie says, "This recipe is a favorite at our house at Christmas."
Instructions
Melt together:
12 oz pkg chocolate chips
1/2 stick parafin wax

Mix together:
1 stick margarine
1 c peanut butter
1 box powdered sugar

Roll into small balls, then dip (with a toothpick, turkey skewer, etc) into chocolate and parafin mix. Drop on waxed paper to set but first:

Decorate (where you stuck the toothpick) with a red cinnamon candy. They are pretty and everyone seems to like them.