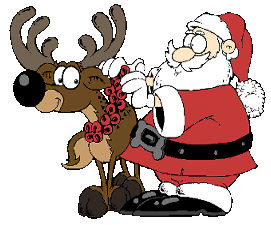 We have 2309 Random Acts Of Kindness So Far!
All of us at XmasFun.com would like to ask a favor of our users. We would like each of you to do one or more Random Acts of Kindness this holiday season. After you've done your Random Act, we'd like you to come back here and share your experience with us! It can be a small act, like smiling at your grumpy neighbor or paying the toll for the next car behind you at the toll booth...or perhaps something bigger! We don't care, we just want to hear your stories and share them with our site users. And please don't be timid about sharing the smallest of kind acts...it's the little changes that make the world a better place!
---
---
ID: 10398
12/8/2013 1:26:18 PM. - Vince - Sigourney, IA
We were shopping in a local department store. An elderly lady was ringing the bell for the Salvation Army. She was obviously cold. I asked her how long she had to stay, and she said no one else had signed up for the afternoon, so she would be here all day. Then she said she forgot to bring her gloves and her hands were freezing. My wife and I went inside and bought her a pair of gloves and took to her as we left the store. She appeared so happy, she was saying "God Bless You" to us all the way to our car.
---
ID: 10397
12/8/2013 12:51:04 PM. - Esmae - Sydney
I have been ill for some time and I took my specialist and his secretary some homemade marmalade as he loves to cook. The first lot I burnt by accident, so, random act made more. Story doesn't end there, the WRONG secretary took it, even though there was a note. I have several jars at home, we have it every year when all the fruit is perfect, so luckily, another random act to replace it when I go next week.
---
ID: 10396
12/8/2013 12:13:34 PM. - charlie - nc
I helped my nabobr over the holidays care for her pets while on a vaction i also paid for the car persons meal behind me at Mcdonlds and i donated goods to my church for child hunger
---
ID: 10395
12/8/2013 9:40:08 AM - Arisa [Arisha] - ruston,louisiana
There was a dead bird at my school and i prayed for it.
Poor little bird, at such a young age he died.
---
ID: 10393
12/7/2013 10:05:14 AM - rupinder - canada
I gave 10 items to the food drive. its nice to feel good

---
ID: 10392
12/7/2013 5:29:01 AM - JoAnn - Brooksville, Fl
Going to have a neighbor with cancer--little dog COCO groomed for the holidays
---
ID: 10391
12/7/2013 1:48:12 AM - sassy - country
Me and myird out side my house friend found a limping bird outside my house so we brought him inside a few minutes latter he was really tame and friendly so we decided we would look after him over night until he recoverd the next day he was as good as new!
---
ID: 10390
12/6/2013 10:51:14 PM - YaelQ - Vashon, WA
Got coffee for the food bank collectors outside the supermarket today :-)
---
ID: 10389
12/6/2013 7:22:20 PM - kiki - scottsvilleky
I help my grandma. she has been going through a hard time this year. September 3 her husband died, then she had a massive heart attack! next my nieces' and nephew's dog got attack by an older dog, and then my uncle niel's leg gets caught in between a piece of machinery. and to top it off it was my uncle steve's birthday. September 19 her ex-husband died. so it has been a rough year for my family
---
ID: 10388
12/6/2013 1:31:22 PM - Emmy - ny
Me and my mom helped a little bird that was stuck in some netting.
---
---