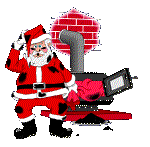 Maybe not just for Christmas!
Ingredients
Filling:
2 packages (3 oz each) cream cheese, softened to room temperature
1/4 cup orange marmalade
2 Tbs. sugar
1 egg
Yellow and red liquid food coloring

Brownies:
1 package (19.8 oz) family size brownie mix
1/3 cup oil
1/3 cup water
2 eggs
Instructions
1. Heat oven to 350F. Grease 9" square baking pan. In medium bowl, with electric mixer on high speed, beat cream cheese, marmalade, sugar and egg. Stir in yellow food coloring and enough red food coloring to tint bright orange.

2. Prepare brownie mix according to package directions, using 1/3 cup oil, 1/3 cup water and 2 eggs. Pour two thirds of the batter into prepared pan. Drop dollops of cream-cheese filling onto brownie batter.

3. Spoon remaining brownie batter on top of cream cheese dollops.

4. Using a table knife, cut through the mixture to create a marbled effect.

5. Bake 30 to 35 minutes until toothpick inserted in center comes out clean. Transfer to wire rack and let cool completely. Cut into squares.