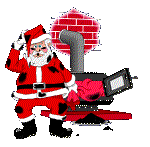 Here's a taste of Victorian Christmases past, when families hung cookies on their holiday tree. To make holes for hanging, pierce the top of each cookie with a skewer as soon as it comes out of the oven.

Makes about 4 dozen cookies.
Preparation time: 1 hour.
Chilling time: 1 hour.
Cooking time: 8 minutes.
Cooling time: 10 minutes.
Ingredients
4 cups sifted all-purpose flour
1 tablespoon ground cinnamon
2 teaspoons baking powder
1 1/2 teaspoons each ground ginger and ground cloves
1 tsp. each baking soda, ground nutmeg, and salt
1 cup (2 sticks) unsalted butter (not margarine), at room temperature
1 cup granulated sugar
2 large eggs (separated)
1 cup molasses
1 tablespoon cold water

Optional decorations:

Currants for eyes
Strips of candied cherries for smiles
Red hot cinnamon candies for buttons

For the icing:

2 1/2 cups sifted confectioners sugar
1/2 teaspoon vanilla extract
3 to 4 tablespoons cold water
assorted food colors
Instructions
Step 1:
Onto a piece of wax paper, sift 3 1/2 cups of the flour, the cinnamon, baking powder, ginger, cloves, baking soda, nutmeg, and salt. In a large bowl, with an electric mixer on High, cream the butter and sugar until light yellow and fluffy. Beat in the egg yolks, one at a time, then the molasses. Using a wooden spoon, stir in the flour mixture. Cover and refrigerate the dough for at least 1 hour or overnight.

Step 2:
Preheat the oven to 350°F. Butter three baking sheets. On a pastry cloth or board, sprinkle 1/4 cup of the remaining flour and roll out half of the dough, 1/4 inch thick. With cookie cutters, cut out gingerbread people. With a spatula, transfer them back to the baking sheets. Decorate with currants, cherries, and cinnamon candies if you wish.

Step 3:
In a cup, whisk the egg whites with the water. Bake the cookies for 5 minutes, then brush lightly with egg whites. Bake 2 to 3 minutes more. Let cool on the baking sheets for 2 minutes. With a spatula, transfer to racks to cool. Repeat with the remaining dough and flour.

Step 4:
To make the icing: In a small bowl, stir the sugar with the vanilla, then add enough water to make a stiff icing. Divide into small cups and color as you wish. When the cookies are cold, pipe out designs, such as smiling faces, zigzags, bow ties, and aprons. If using different colors of icing, let one color dry before piping the next. Store cookies in an airtight container for up to two weeks. Do not freeze, as the icing could crack.
Nutritional Information
1 cookie:
Calories 127
Saturated Fat 3g
Total Fat 4g
Protein 1g
Carbohydrate 21g
Fiber 0g
Sodium 80mg
Cholesterol 20mg