A Charlie Brown Christmas
Charlie Brown finds himself depressed at Christmas time, searching for the true meaning of the holiday amidst the glitz and commercialism of the modern age. He finds his answer in the passage below:
"And there were in the same country shepherds, abiding in the field, keeping watch over their flock by night. And, lo, the angel of the Lord came upon them, and the glory of the Lord shone round about them! And they were sore afraid ... And the angel said unto them, "Fear not! For, behold, I bring you tidings o great joy, which shall be to all my people. For unto you is born this day in the city of David a Saviour, which is Christ, the Lord."
"And this shall be a sign unto you: Ye shall find the babe wrapped in swaddling clothes, lying in a manger." And suddenly, there was with the angel a multitude of the Heavenly Host praising God, and saying, "Glory to God in the Highest, and on Earth peace, and good will toward men."
"That's what Christmas is all about, Charlie Brown." - Linus Van Pelt
Watch Online

Click the play button above to watch A Charlie Brown Christmas!
Trivia
Think you know your Charlie Brown Christmas trivia? Test yourself on our A Charlie Brown Christmas Trivia page.
The Songs:
The score for "A Charlie Brown Christmas" was anything but traditional. Vince Guaraldi's jazz renditions of traditional Christmas melodies have become synonomous with the Peanuts characters.
Featured in this classic soundtrack: O Tannenbaum, What Child Is This, The Little Drummer Boy, Linus And Lucy, Christmas Time Is Here, Skating, Hark The Herald Angels Sing, Christmas Is Coming, Fur Elise, The Christmas Song, Greensleeves
Other Charlie Brown Stuff: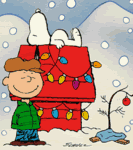 The Official Peanuts Website (www.snoopy.com)
Video Review
This half-hour Christmas show is one of the truly lovable animated specials in TV history, a status proved by its annual network telecast since 1965. A Charlie Brown Christmas was the first, and best, of a series of programs based on the Charles M. Schulz cartoon strip "Peanuts." Hapless hero Charlie Brown finds himself depressed at Christmastime, searching for the true meaning of the holiday amidst the glitz and commercialism of the modern age. Appointed director of the school holiday pageant, Charlie Brown ventures out with Linus to buy "a great, big, shiny aluminum Christmas tree." Instead they bring back a miserable tree--a real one. A Charlie Brown Christmas shows off the "Peanuts" gang doing what they do best: Lucy is bossy, Snoopy is crazy, Linus is sweet, and Pig Pen is, well, filthy. Instead of using adult actors trying to sound like kids, the production features real children providing the voices, an endearing effect. The jazz music score, composed by Vince Guaraldi, has become a classic in its own right; like so much about this program, it's an unexpected but perfectly right choice. --Robert Horton